Life is so
weak
.
We have to admit this :(
These few days I kept on seeing
bad news
on local newspapers.
Life are lost so easily, without any hints!
I saw
car flying down
from shopping center roof top, crashing 2 girls that caused innocents dead.
I saw car washing worker
reversing car
and banged into customer which sitting there waiting for his car to be washed. He died just like that.
I saw
lightning struck
on a young man while running to get his car.
I saw
lorry's tyre falling off
and hit an old man in a car.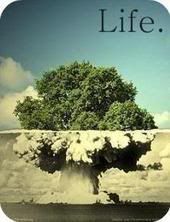 Everyday, continuously four days, I saw these
rare accidents
.
Showing us that our life is so weak, totally
uncontrollable
by us.
None of the victims ever think before they will die in such ways :(
Those accidents happens the way something like
Final Destinations
movie series.
This is all
Fate
, no one is able to change it, everything in the hand of God.
Let's
appreciate every moments
we have :)
Do what we want to do, tell what we want to tell.
Live with no regrets!
Because we never know when we going to leave this world, is it?
Appreciate
everyday,
appreciate
everything we own now :)
I Love You, everyone!
------------------------------------------------------
Have you...?


i) Click my nuffnang ads?
ii) Follow me through Google Friend Connect?
iii) Subscribe to my posts or even comments?

Item (ii) and (iii) can be found on

RIGHT sidebar

, below Term of Use :)

Thank you.